The Food Resource Spanish Range of Products
This being a very old proverb, dating back to the 14th Century, it is doubtful a pudding would have been a delicious sticky toffee substance but more of a savoury dish and, in fact from my research, could have been some sort of sausage?! So our week of tasting and testing Iberico burgers, sausages, meatballs and ribs could rightly fit the description of pudding! On this beautiful cold, crisp morning I contemplate how our week of Iberico tasting has gone. I've eaten and cooked lots of pork, it being a family favourite, since the days of...
read more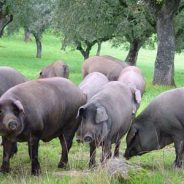 From the finest black Iberian pigs, fed on natural feeds we are pleased to launch a great affordable range of fresh and frozen Iberico Fresh Pork
read more

Healthy Cured Sausage – New to the UK Market These sausages are produced by a family firm in Spain run by the fourth generation. Operating from a brand new factory with IFS and BRC certifications, using traditional methods, they have launched a product that will appeal to the health conscious, producing cured sausages are lighter in fat with less calories. This enables Chorizo to be offered to those concerned with healthier eating and/or dietary requirements. Advantages No preservatives – only natural ingredients, free from...
read more
If you are looking for something new to offer as a snack to your customers, maybe Spanish churros might be an idea? A churros, sometimes referred to as a Spanish doughnut, is a fried-dough pastry snack. Churros are usually fried until they become crunchy and may be sprinkled with sugar. The Food Resource company are able to supply a range of frozen churros in a variety of sizes. We would be happy to discuss this product with you.
read more
The Food Resource Company is offering a full range of Spanish cured meats, with our diced chorizo proving popular at the moment. We are able to offer a delightful range of tapas meats suitable for the picnic/takeaway market along with the usual selection of Serrano ham – sliced & whole, Chorizo, Salchichon and Fuet. There are many formats and packaging options to choose from including the NEW LOW FAT variety. Should you have an idea for your own chorizo, please contact us and we will be happy to quote for your own recipe! We are also...
read more