Iberico is to pork what Wagyu is to beef …
The Food Resource is pleased to now be selling a range of Iberico Fresh Pork Meats.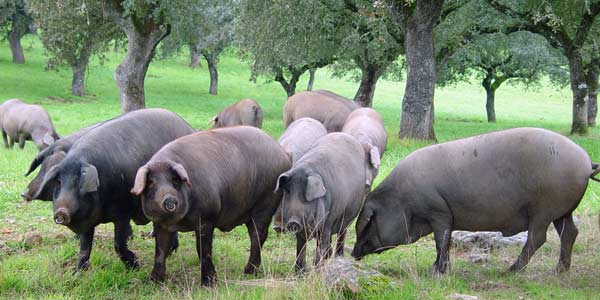 From the finest black Iberian pigs, fed on natural feeds we are pleased to launch a great affordable range of Iberico Fresh Pork and frozen Iberico pork.
We offer full traceability from the field to the plate with an emphasis on animal welfare that allows us to provide Iberico all year round.
Iberico meats are renowned for their quality and taste and are also recognised for their cholesterol friendly benefits, as well as high oleic acid content due to the breed. Using the CEBO method of feeding we can confirm that due to strict regulation of genetics, breeding and feed the oleic acid benefits are found to be as good as RECEBO.
With an emphasis on the importance of The Mediterranean Diet we can offer healthy, yet tasty iberico fresh pork to suit all recipes.
With the benefits of adding olive oil to our daily diet and eating more vegetables and fruit, we can now add Iberico pork knowing that it contains monounsaturated fatty acids and good levels of oleic acid.  From research this has shown can reduce the levels of harmful or bad cholesterol.
Iberico also contains high levels of protein and is rich in vitamins B1, B2, B6 and B12, niacin, folic acid, zinc and iron.
There are three types of Iberico pork:
Bellota – fed on acorns and pasture outside.  Only available a few months of the year.
Recebo – fed on acorns and pasture plus natural feeds.
Cebo – fed on natural feeds, and outside a minimum time
Our range includes:
Iberico burgers
Iberico meatballs
Iberico sausages
Iberico Belly Rib Strips
Iberico bone/boneless loin
Iberico collar
Iberico half loin
Iberico tenderloin
Iberico spareribs
Available both fresh and frozen
Please call Mandy Collins for further information 07715 104936 or Contact Us Here
Tweet
Follow @FoodResource_co